You've probably been there before. You've prepared a fun and inspirational kids yoga class, to find out that it's probably not going to work. Despite all the Ways Themed Lesson Plans can help in Kids Yoga, there are times I recommend you scrap your lesson plan for something even better!
Ditch Your Lesson Plan When a Big Event Happens
Perhaps something happened in school and the kids are feeling sensitive to the event. I've taught kids yoga through tragedies like 911 and the time a classmate died in a drowning accident. The students need empathy and you need to be flexible enough to adapt your lesson plan to the important situations that arise and that need attention.
Modify Your Lesson Plan When It Doesn't Feel Right
As a mindful and present teacher, you know when what you've prepared doesn't feel right. Remember that the lesson plan was prepared before going into class. If you feel that the plan doesn't align with the needs of the students, don't use it. For instance, I often teach the same lesson in all my classes of the week. One class loved doing Sun Salutations and another would complain when I mentioned them. As long as we're doing yoga, I'm going to change the plan to a different warm up because it's hard to drag a class through a lesson they are not excited about.
Alter Your Lesson Plan When the Student Is Ready (or Not Ready)
You may realize as you begin teaching that the learners are not ready for your lesson. Or, you may find a class is more advanced than what you've prepared. For instance, I usually plan bundle rolls for a few minutes but in one class a few kids kept dropping their heads and banging them on the floor. They didn't have the muscular strength to maintain the pose so I cut the plan short. Adjust your lesson plan or eliminate it entirely to reflect the level of the students.
Adjust Your Lesson Plan When Something Happens During Class
You can never predict what may happen as you're teaching. Every circumstance is different. Emotions come up, something works really well and you want to build on it, or the kids start to go into other poses on their own. With experience, you'll begin to know intuitively how to respond to any situation and whether to continue your lesson as planned. Go with the flow.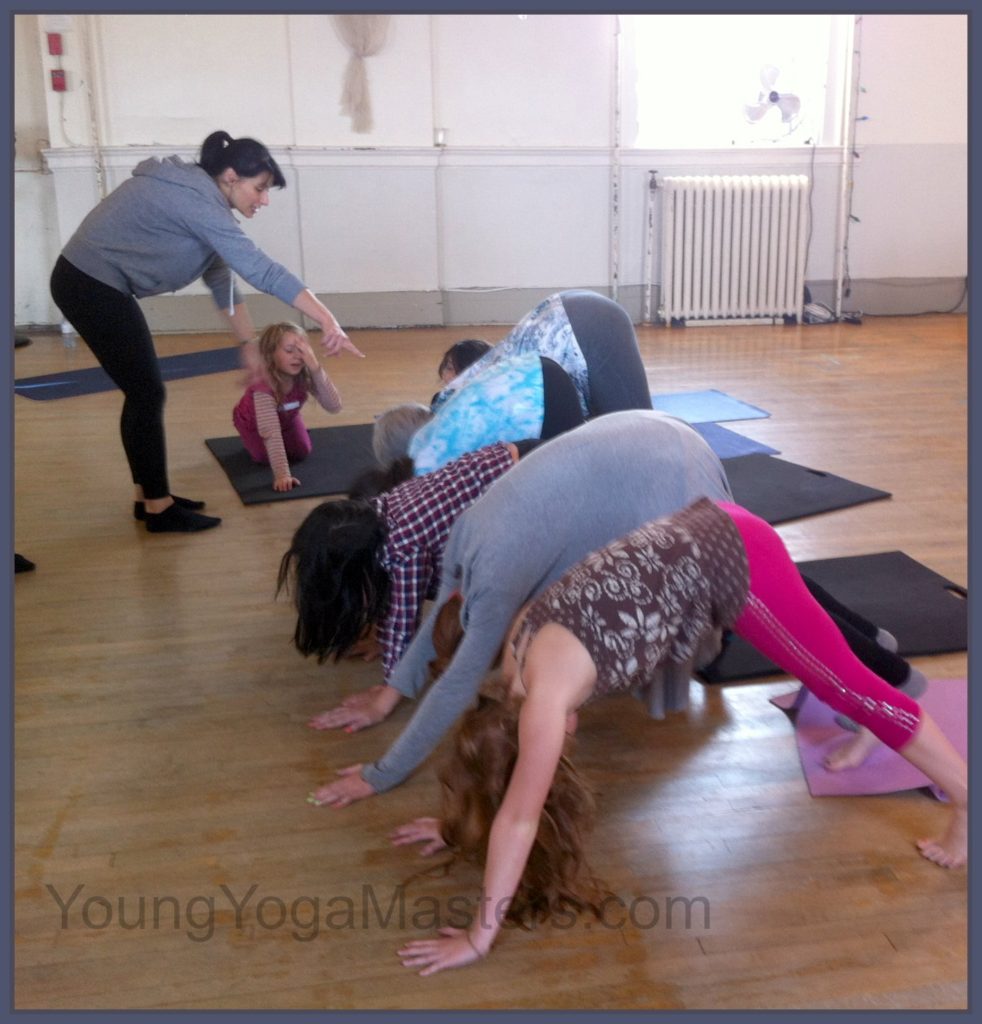 Transform Your Lesson Plan When Inspiration Hits
Kids will say the sweetest things, and perhaps something they say or do will inspire you to create something new on the spot! Trust your creative instincts to make some things up along the way!
A great teacher comes in prepared, but is also able to put aside their plan to attune to the needs of the students. When you can do this, you and your learners will feel more connected, be fully present, and have a truly authentic yoga experience.
How often do you use a lesson plan and how often do you need to change it?  What happened?  How did you handle it?
Kids Yoga Teacher Training
Two Early Registration Deadlines Approaching:
Save by registering early for these upcoming courses.  Every course you take counts towards your Yoga Alliance 95 Hour Certificate through the Young Yoga Masters Registered Children's Yoga School.  Plus you'll connect with other kids yoga teachers and have an uplifting weekend filled with kids yoga ideas and tools.
Early Registration Deadline for Inclusive Yoga Module in Toronto – Feb. 21-22 – Save $26 by registering this weekend!  This weekend focuses on including all children in your yoga classes including kids with special needs and yoga for boys.  You'll get the Yoga Man vs. The Stressor digital tools and gain experience teaching in the kids camps with actual kids in attendance.
Register for Inclusive Yoga (Feb. 21-22) and What I See, I Can Be (April 25-26) and Save Even More by Taking 2 Modules at a Time!
Super-Early Registration Deadline for Summer Certification – you will save significantly  if you Register by February 28/15 – Details Here

New Orleans July 17 – 26: 10 Day Summer Intensive
Burlington, Ontario Aug 9 – 21: 12 Day Summer Certification
If you have any questions about what training is right for you, contact us for a free consultation:
416-944-2888
Kids Yoga Teacher Training
Check Out the Self-Paced Teacher Certification