Our in-person Family Yoga and Kids Yoga Classes are on hold as we look for a new location and get ready to return to in-person classes.
Please join our newsletter about local kids yoga classes in Toronto and Ontario. We will send you an update when classes resume.
This sign up is for the Kids Yoga Classes in Toronto Newsletter only. Be sure to also sign up for the main newsletter on the Home Page for information on Kids Yoga and Teacher Training.
By filling in the registration form you agree to the terms of the Release form for Kids/Family Yoga Classes. This program is sponsored by the Young Yoga Masters—Kids Yoga Teacher Training, a Registered Children's Yoga School.
Healthy Kids, Happy Parents!
Emerging research from Harvard Medical School* indicates that yoga for children provides so much more than fun and games. A growing body of research shows yoga improves both physical and mental health for children.
Yoga helps kids with concentration, balance, strength, self-esteem and academic performance.
The results are clear, kids yoga is highly recommended!
Give your kids the gifts of yoga at these classes in Toronto:
About the Kids and Family Yoga Classes
All our kids and family yoga classes are designed with fun in mind, so kids and families enjoy themselves while also learning valuable skills.
Come discover how yoga is good for you, relaxing, and helps you reduce worry and anxiety too.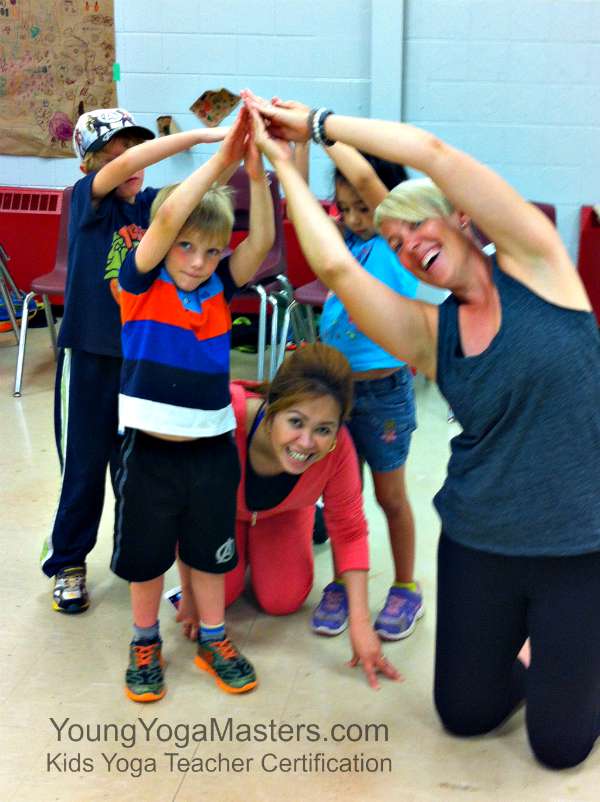 About Family Yoga (all ages): This one hour class includes a yoga adventure with poses to get everyone moving. We have a cozy relaxation with music, where you have the option to lie down and relax or try the meditation to the music. Then finish the class with a fun yoga game!
Both adults and children are encouraged to do yoga as per their abilities. Adults can keep an eye on their kids but if your children are watching, as often happens, we encourage adults to do the yoga activity. This is usually the best way to encourage your children to participate in Family Yoga. When in doubt, your Yoga Teacher will let you know if something really needs correcting. We include partner yoga poses to bring families together as well as meditation and relaxation time appropriate for children.
Kids Yoga (children only ages 5+): The 2 hour kids yoga camp takes place on Sunday afternoon (3-5 pm) of the Kids Yoga Teacher Training weekends. Each camp includes yoga adventures, mindfulness, songs and games with lots of choices and activities including craft or colouring. Guided relaxation is a favorite and kids get a much deserved rest after all the yoga poses.Parents are invited to leave their cell number and drop their kids off anytime after 2:45 pm, then pick them up at 5 pm. There are seats in the entryway where parents can wait if desired.
Dress to do yoga and bring your yoga mat and water bottle: Dovercourt House is a large dance studio with wood floors. Bring a yoga mat if you have one. Bring your water bottle too. We have a few yoga mats that can be borrowed. Dress in layers to do yoga, crafts, and relaxation.
---
Kids Yoga Teacher Training
Check Out the Self-Paced Teacher Certification