After yoga teacher training, starting your yoga teaching business is kind of like telling the world you're a yoga fanatic.
Before teacher training the practice of yoga is highly personal, you do it for yourself. It's glorious and indulgent me-time. At least, that's what I felt when I first started doing yoga at the YMCA back in 1995.
When I realized I was a huge yoga fan, attending more than 3 classes a week, I knew the right choice for me was enrolling in yoga teacher training. 
Teacher training was a beautiful bubble of positivity filled with fellow yogis. Then I graduated and wanted to teach yoga and that bubble suddenly burst.  Yoga was no longer just me-time, a time to take a break from the stresses of daily life and relax. Yoga WAS real life. It was my real life and my job and I had to start telling others about it. I had to start promoting myself, something I had no experience doing and I didn't really know where to start.
The completion of yoga teacher training can be a bit of shock as you shift from student to teacher. That step can leave you feeling vulnerable. You may be worried that you will turn people off by promoting yourself too much or too hard.
You Don't Want to be THAT Person
We've all had the experience of having a friend or acquaintance contact us out of the blue about their new business. If we're not interested, and the friend is insistent, it can become uncomfortable and put a rift in the friendship.
We don't want to be that pushy person as we figure out how to put ourselves out there in a way that feels good. We all know of people "living the dream" doing a job they care about and talking passionately about it in a way that inspires. They make it look easy, not sleazy.
It's Like Teaching Yoga to Tweens
Overcoming the hesitancy to promote yourself is like teaching yoga to tweens. They can be reluctant to try yoga because it's different or "not cool" and they don't want to look foolish in front of their friends.  But once they're doing the poses and playing the games they forget about their worries and just enjoy themselves. Before they know it, class is over and everyone is happy.
Maybe you listen a bit too much to the twelve year old inside you. The one who cares what other people think and who doesn't want to look foolish but doesn't want to miss the party either.  
That kid also has the urge to take chances and put themself out there to experience something different and create a new life for themselves.
How to Put Yourself Out There as a Kids Yoga Teacher
In yoga teacher training we learn that it is best for beginners to start with simple moves and it's the same with self-promotion in the business realm.
Start by Telling People Who Support You: When I started my business, I started by talking to people who I knew would be supportive. I told yoga loving people in my social circle, I told family members, friends, and anyone who showed any interest and didn't criticize. It was how I learned which stories and phrases landed and which ones flew over their heads. It helped me shorten what I wanted to say and develop my "elevator pitch." This initial phase was so helpful, and it wasn't hard because I was so passionate about what I was talking about. When I started teaching full time, half my classes came through word of mouth because people thought of me when they heard someone was looking for a yoga teacher.
Start Subbing: Next, I offered to be a substitute yoga teacher to experienced yoga teachers who needed help during their time away for holidays or courses. I made a promise to myself to say yes to teaching whenever it was possible. I got a couple of great gigs when a teacher I subbed moved away. Subbing is very helpful to teachers and a great way to build confidence as a teacher and get your name out there.
Start Networking: I formed networks and shared my passion for my specialty, kids yoga, with anyone who had kids, taught kids, worked with kids or was interested in kids health and happiness. I had weekly tea with another kids yoga teacher in my neighborhood and we supported each other and eventually offered workshops to parents. I volunteered in the adult yoga community I belonged to, and soon all the other adult teachers knew I was the Kids Yoga person. I always had time to talk to parents after my kids yoga classes, and one of them told me about a Montessori School that was looking for a kids yoga teacher. I ended up working at that school as their weekly yoga teacher for 18 years!
Avoid the Nay-Sayers: I did NOT tell people if I thought they would find fault in my yoga teaching career move. That would be like me trying to do Crane Pose in my first yoga class – definitely difficult and for me, even dangerous. If people aren't interested, save your energy and stop talking.
Beginners are best starting with beginner steps. Build your business in a sweet and steady way.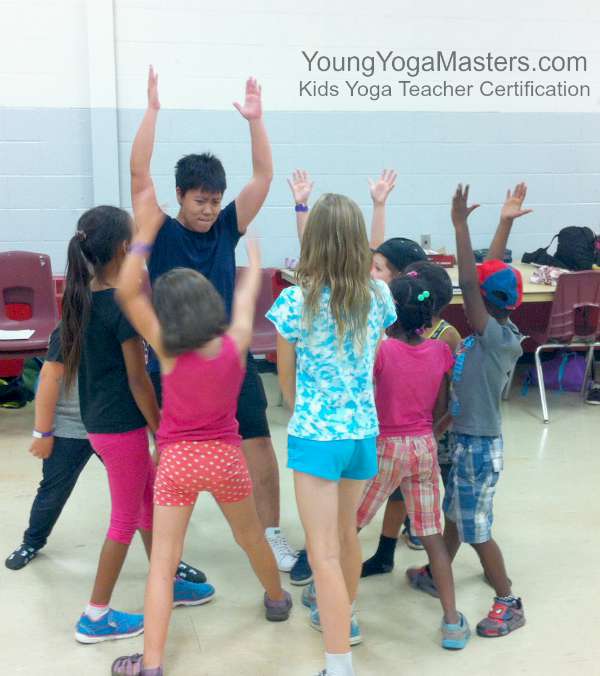 Be True – Avoid Sleazy Advertising
Advertising can feel sleazy, designed to trick people into buying (I'm thinking of Vitamin Water, all the Betting ads, the list goes on). The yogic approach to advertising involves working with integrity, building relationships, and only working with people when there is a fit. This approach has been successful for me. Here's what I recommend:
Let Your Style be Known: I started putting myself out there with articles (blogging) to show people what I am about, what my teaching philosophy is and to give readers an opportunity to figure out if they resonate with the way I do kids yoga.
Be Real, Credible, Remove the Mystery: Don't promise the moon. Let your advertising be true to who  you are and describe what is unique about what you are offering. It may be obvious to you what happens in a kids yoga class, but to a new person, it is a mystery. Let your advertising demystify your offering. Let your customers know if your kids class is challenging, strict, and focused on helping children develop their attention and flexibility. Or maybe your kids class is playful and relaxing which helps children relieve stress and learn to manage anxiety. Whatever your style, develop your advertising to reflect your class, not to sound what you think it should say. You'll attract customers who want what you offer.
Advertising that has a point of view doesn't feel gross; it actually helps people make an informed decision.
Build Slow, Build Strong. Be a Support for Yourself and Others.
I didn't overload myself as I built my new kids yoga business. I had part time jobs that eased the financial pressure. It takes years to build a business so don't expect to build in a few months.
I went out of my way to meet more experienced yoga teachers to learn how the developed their classes. I got their advice on what to charge and how to put myself out there. I sought and found communities of support, and I supported others. If I was offered a class but it wasn't in my area, I shared it with someone in my network, and others shared classes with me.
You can get support from private Facebook Groups (Young Yoga Masters graduates have one) or the monthly mini-training, a place to network and share classes. If you are thinking of taking adult or kids yoga teacher training, find out what kind of post-training support you get. That support helps!
If you've completed your yoga teacher training and are at the place where you're ready to teach new classes but don't know where to start, you aren't the only one.
As you start putting yourself out there let everything that you've learned in yoga guide you.
It is possible to create a new career, full or part-time, without destroying all the things you love about yoga and about yourself. You might have begun your yoga teacher training journey because you were a yoga fanatic and there is absolutely no reason it can't stay that way as it it becomes your job and your business. I say this with confidence because I've been living that passion for over twenty years now.
Yours truly,
Aruna Kathy Humphrys
Lead Trainer, Young Yoga Masters
Yoga Alliance Registered Children's Yoga School
P.S. For our fellow yoga fanatics reading, we invite you to consider Young Yoga Masters if you are looking for a Kids Yoga Teacher Training.
Kids Yoga Teacher Training
Check Out the Self-Paced Teacher Certification