Yoga Man vs. The Stressor:
Games for Stress Reduction
To Become the Hero of Your Own Life!
Yoga: The Way Boys Like it
One mom told me she had to bribe her son to do yoga because he thought yoga was a girl thing!  Most yoga classes are filled with women these days and boys are starting to get the wrong impression.  We can't let boys miss out on the health benefits of yoga because we don't know how to get them interested!
Yoga Man addresses this problem by showing yoga the way boys like it:  filled with adventure, games, and fun!  Activities that makes boys look forward to yoga.
Young Yoga Masters:  A Trusted Place for Kids Yoga Training
Hi, I'm Aruna Kathy Humphrys, from Young Yoga Masters.  For over a decade I've been teaching kids and I know what boys like!  The boy who had to be bribed to come to my kids yoga class brought two of his  friends, both boys, to join the class the next week!
Since I started writing my blog in 2007, I've gotten countless questions from readers about how to get kids doing yoga, how to get them interested, and what activities and games kids like.  The answer  is always:  get the right training and the right tools.
Yoga Man vs. The Stressor is a special training package that gives you the right training, games, and tools to make your yoga sessions fun and meaningful.  It's much more in-depth than I can put in a blog post.  Most important, it gets boys running to be a part of yoga.
Helps Boys Deal Effectively With Stress
These games and activities also teach boys about stress.  Using play based learning, kids will gain an understanding of what stress is, how to recognize it, and how yoga can relieve stress.
Preview the Yoga Man Coloring Pages
Fast and Affordable – Get It Instantly

You'll Get this Training Instantly – It Arrives in your E-mail as Soon as You Purchase
When I teach this workshop in person it will cost $80 for an afternoon workshop – which doesn't include your travel expenses.  This  Training is a download, which means it will arrive in your e-mail minutes after you purchase it. You train from the comfort of your own home. You'll even be able to use the games and coloring pages the day you invest in the training.  Then keep printing the pages as many times as you like for all the children you teach, year after year.
The complete Yoga Man vs. The Stressor Sun Salutation training contains six parts:
Yoga Man vs. The Stressor:
You will have 12 Coloring Pages, one for each pose of the Sun Salutation.  These pages include one set of pages with the sequence number on them and one set without so they can be used in all the Yoga Games.  These are files that you can print off as often as you want to help you introduce kids to the Sun salutation, use with the 10 Yoga Games (see below for info), or to give to the kids at the end of your class to color and take home.  Value:  $9.99
10 Sun Salutation Games and Activities
– introduce the Sun Salutation through playful learning. These Ten Games (actually eleven games with the bonus activity) give you a variety of fun activities to introduce the Sun Salutation to your kids. With a special focus on Yoga Man facing off against The Stressor, these games help kids understand stress and stress management. Includes both short and long games to do for a quick activity or a longer yoga session. Value: $19.99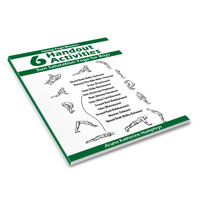 Yoga Man Handout Activity Sheets:
6 bonus colouring activity pages to keep kids busy at the end of a class. You can print these files whenever you want and as often as you want. Value: $5.99
Teaching Pages:
Yoga Man vs. The Stressor – The 12 Coloring Pages in a Teacher's format with detailed information on each page telling you how to teach each pose for good, safe alignment. Value:  $9.99
The Sun Salutation Pose Manual:
this 32 page manual gives the full health benefits of each pose, "how to" instructions, precautions to avoid injury and how to transition from one pose to the other.  It's got everything someone new to yoga needs  and it's a quick reference tool for more experienced teachers. Value: $14.99
Secrets of the Sun Salutation
– this concise article gives you the ancient wisdom behind the practice of the Salutation to the Sun (Surya Namaskar).  Bonus Article
Tested by a Certified Kids Yoga Teacher with Real Kids
Designed by a kids yoga specialist, this package gives you new activities, games and ideas for your kids' to do yoga.  They help boys and girls stay active and decrease stress.   All the games and activities in this training have been tested with real kids in real situations.
Get Yoga Man vs. The Stressor – Kids Yoga Training
Over $60 to buy separately
Get the complete training package for $39
Save more than $20!
Who is this Kids Yoga Training for?
Kids Yoga Training: Yoga Man vs. The Stressor is for everyone who wants to give kids the gift of yoga including:
New Yoga teachers and educators who have just started bringing yoga to kids and want help planing lessons.
Experienced teachers who have taught kids yoga for a while and want fresh ideas.
Parents, grandparents, aunts, uncles, all those who love kids and love yoga and want to inspire kids to a healthy lifestyle.
Anyone who wants to help boys get active, reduce stress, and improve health with yoga!
Especially good to use with kids who need help in their own personal battle with The Stressor.
When you purchase the Yoga Man vs. The Stressor Training you'll be entering into an adventure in kids yoga. Everything you need is explained in the download.  Plus, the Young Yoga Masters blog is here for you if you have any follow up questions.  You won't be left on your own when the training is over.
How to Use the Kids Yoga Training
All the activities have been tested in  kids yoga classes with both boys and girls from ages 4 – 10 years. They work!
Both boys and girls love Yoga Man but they especially love what they learn to deal with stress at school and at home.  Without it, kids are left to figure out how to handle stress on their own.  Use this Training in any number of ways:
New yoga games and activities– both new and experienced teachers will use the game ideas to add some fresh fun to your lesson plans and kids yoga classes. Use the coloring pages for a quick and easy short activity during the class or at the end of class.
Create longer yoga sessions– many of the games can become 30 – 45 minute yoga sessions.  Just add a relaxation and some coloring time at the end and your 60 minute lesson plan is ready.
Educate kids about stress: with the games in this package kids will gain a deeper understanding of what stress is, how to recognize it, how to monitor their stress load, and what they can do to manage and reduce stress.
Connect with boys: in our times the idea of doing yoga is up against a lot of other fun activities that don't get kids moving.  We've got to meet boys where they're at so they realize that yoga is not just for girls – it's for anyone who wants to learn to be the Master of their own life.  Showing an action hero doing yoga and playing games is just what young boys like.
Create a Sun Salutation book for your home or classroom – print out the pages for kids to color in as an activity in the classroom or while waiting for dinner.  Then put the finished pages in a duo tang to create a home-made resource the kids are proud of.  Each time you pull out the book, your kids will shine knowing they made it themselves. They just may be a little more likely to pull this book out on their own too.
Give the kids something to take home to remember yoga – teachers can also use the coloring pages to give kids to take home. When Yoga Man goes up on the fridge at home he reminds the kids to do yoga and also to sign up for the next series of yoga classes.
Teach kids the Sun Salutation Safely: – teachers, parents, or even babysitters can use the pose manual to make sure they are teaching the yoga safely.  It's great for doing yoga at home or in the classroom.  The teaching poses give you a quick reference and the Pose Manual will make sure you can teach the Sun Salutation correctly.
A Teaching Tool that Won't Get Ruined

This training package is electronic so you don't have to worry about your materials getting ruined by impulsive or excited kids or your tea getting spilled on them!  It's a tool to use with your kids over and over again. Whenever you want a fresh page you just print it out (who wants to go to the photocopier anyway). Let the kids color them and take them home to show to their friends and family. In fact, you can print out the pages class after class and year after year for every new batch of kids you teach or all the kids your friends know.
What You Cannot Do
With this training you can print the pages for your kids and the kids you love and work with as often as you want!  Print off Yoga Man for party favors, stocking stuffers, end of year classroom gifts – as many and as often as you want.  However, to be fair we ask that you agree to use the training for your own use.  When you purchase you agree to not share, e-mail, or print off the training package for other teachers or parents to use.  If you know another teacher or parent who wants Yoga Man,  become an affiliate and recommend the product to them.  That way, you'll be helping to spread kids yoga and be able to make some money for your recommendations.  (Affiliate program info coming soon).
No-Risk Money-Back Guarantee
If you're not satisfied with the Kids Yoga Training: Yoga Man vs. The Stressor after using the games and coloring pages within 30 days of receiving your training package,  just send me an e-mail with a short explanation and I'll refund your money. That's how confident I am that this is a resource that you are going to love.
Get Yoga Man vs. The Stressor – Kids Yoga Training
Over $60 to buy separately
Get the complete training package for $39
Save more than $20!
About the Author
Aruna Kathy Humphrys  has been teaching kids yoga since 1998 and has been writing the Young Yoga Masters blog since 2007.  She's been a full time certified yoga teacher for the past twelve years with more than half her classes coming from teaching kids yoga.
She focuses her time upon Young Yoga Masters.com writing teaching tips on the weekly blog posts.   She has developed both in person and on-line Kids Yoga Teacher Training.  Currently she teaches kids and adults yoga at schools, community centers, and studios.
Get Yoga Man vs. The Stressor – Kids Yoga Training
Over $60 to buy separately
Get the complete training package for $39
Save more than $20!
Kids Yoga Teacher Training
Check Out the Self-Paced Teacher Certification